EECP® Therapy - A simple, non-invasive solution to the complex problem of angina.
Offered exclusively by Vasomedical, Inc., EECP® Therapy is a safe, non-invasive, outpatient treatment option for chronic stable angina that is refractory to optimal anti-anginal medical therapy without options for revascularization. In addition, based upon clinical studies published in peer reviewed medical journals, physicians also refer patients to EECP therapy for the relief of symptoms from other ischemic cardiovascular diseases such as left ventricular dysfunction, diabetes, cerebrovascular disease, and peripheral vascular disease. EECP Therapy has helped hundreds of thousands of patients around the world. Clinical studies show over 75% of patients benefit from EECP Therapy with sustained improvement up to three years post-treatment.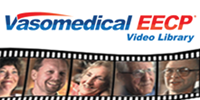 Watch and listen to heart failure, angina patients and cardiologists describe the benefits of noninvasive, outpatient EECP® Therapy.